One day as I was looking over the flyer for this machine I realized I was missing a plastic over the lower pop-bumper.
I read up online and decided to try my hand at creating one.  I found the art online, printed it on thin paper, and attached a thin piece of acrylic with clear laminate.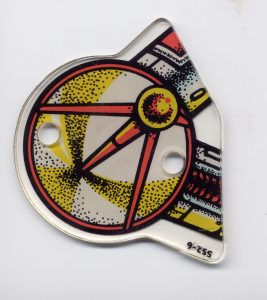 I then used a Dremel to cut it to shape, and sanded/polished.
Just wow – you can barely tell which is the replacement.  If I clean up the curves, it will be a perfect match!  I didn't expect this piece to turn out so well.  I still need to permanently affix it to the bumper cap.